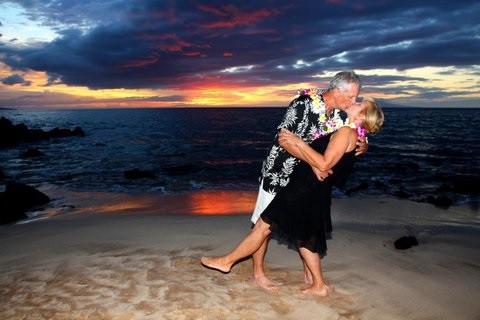 Maui Me "Vow-Renewal" Package – The ULTIMATE in exotic Maui Wedding Experiences!
PRICE: $1,367 Rekindle Your Romance with Maui Me Vow Renewal Package
Have your Vow Renewal Ceremony be your personal style with all that Maui has to offer, beautiful beaches, a beautiful sunset, a touch of class, and attention to detail, making it YOUR Special Day … Again.  Treasure this day by exchanging your vow in one of our breathtaking, beach wedding locations.
Photo Package included: The Photographer captures the intimate and fun moments during your ceremony, plus many more before and after, to make sure that you have the highest professional quality digital images to "tell the story" of your romantic beach ceremony.
We upload the images to a private online address and send you the link to preview your photos. You will be able to download your choice of as many digital images as are included with your package.
This package price is good for "up to 8 guests", but you can add on additional guests for a small fee.
Vow-Renewal Package Includes:
Office Coordination
Non-denominational Minister/Officiant
2 Fresh Flower Leis
35 Photo Images
Keepsake Certificate
Beach Permit: $50 additional fee
Optional: $15 per person. Additional guests may be included.
NOTE: You can also add any other wedding services to this package if you want something extra by creating your own wedding package using the ala carte services.
Maui vow renewals are a great way to celebrate your love and recommit yourselves to each other in a meaningful way. You're likely to find Maui a delightful paradise in which you can enjoy a second honeymoon!
If you want to book a date with this package, contact us online or give us a call. If your wedding date is a specific date based upon when you met, your first date, etc., please let us know so we can capture your wedding day, date, and time. Let us help you make this the most beautiful and memorable day of your life!