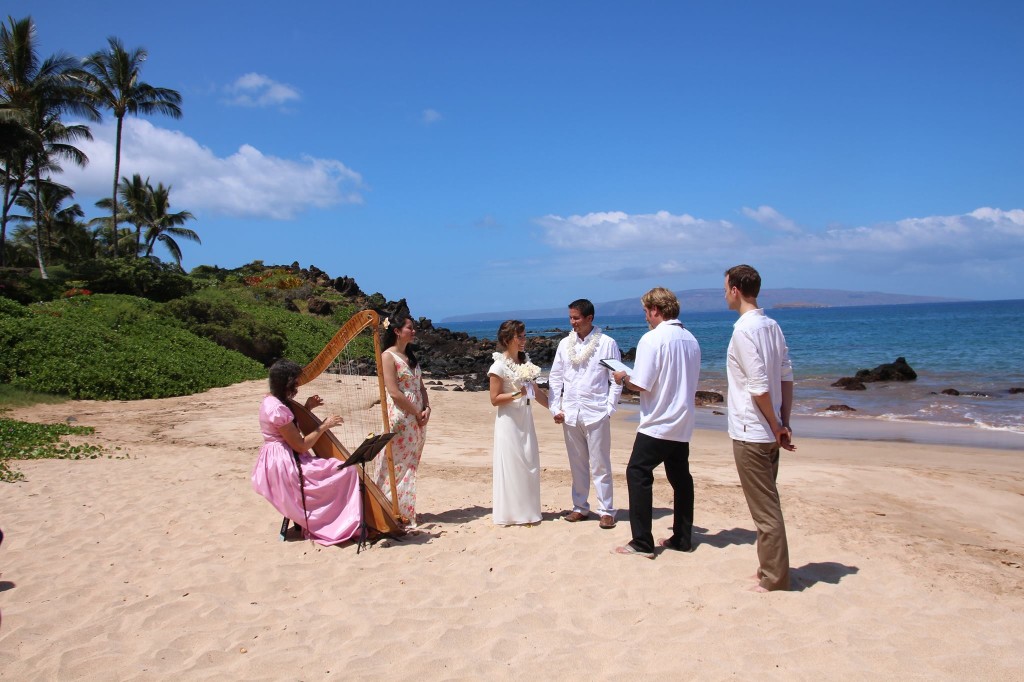 The meaning of "Aloha" is to share breath! Words of meaning that will last a lifetime. With the Aloha wedding package, your wedding will be your personal style with all that Maui has to offer, beautiful beaches, a beautiful sunset and a touch of class and attention to detail, making it your special day.
Wedding Planning: We book a Officiant, schedule your license appointment and order your fresh flower leis.
Onsite Wedding Coordination: At your wedding we coordinate all of the details to make certain that everything goes as planned. If your wedding is on a public beach, we take care of obtaining a State Beach Permit.
Flowers: You receive two flower leis that will be used for a lei exchange during your wedding ceremony. These Hawaiian leis are available to you in your choice of vibrant colors or pastels.
Photography: this wedding package includes 30 pictures. Because all of our weddings are shot digitally, we actually shoot many more, so if you love your pictures, you can also buy more photos later.
Sparkling Apple Cider Toast: After the wedding ceremony we provide an attractively decorated small round table, with a white lace table cloth on which we'll place two glasses and an ice bucket for your wedding toast.
Souvenir Wedding Certificate: We provide you with a beautiful color wedding certificate keepsake.
*Beach Permit
Price: $897
*Plus a $35 beach permit fee that is required by the State of Hawaii when having a wedding on the beach.
NOTE: Our "Aloha Package" wedding is perfect for couples with 8 guests or fewer. You can added on additional guest for a small fee or anything you might what to add . . . like a limo or musician, check out our Ala Carte page. It offers all you need to make your wedding the extra special day of your dreams.
If you want to book a date with this package, contact us online or give us a call and we can help you make decisions about the details of where, when and how. We looking forward to hearing from you.