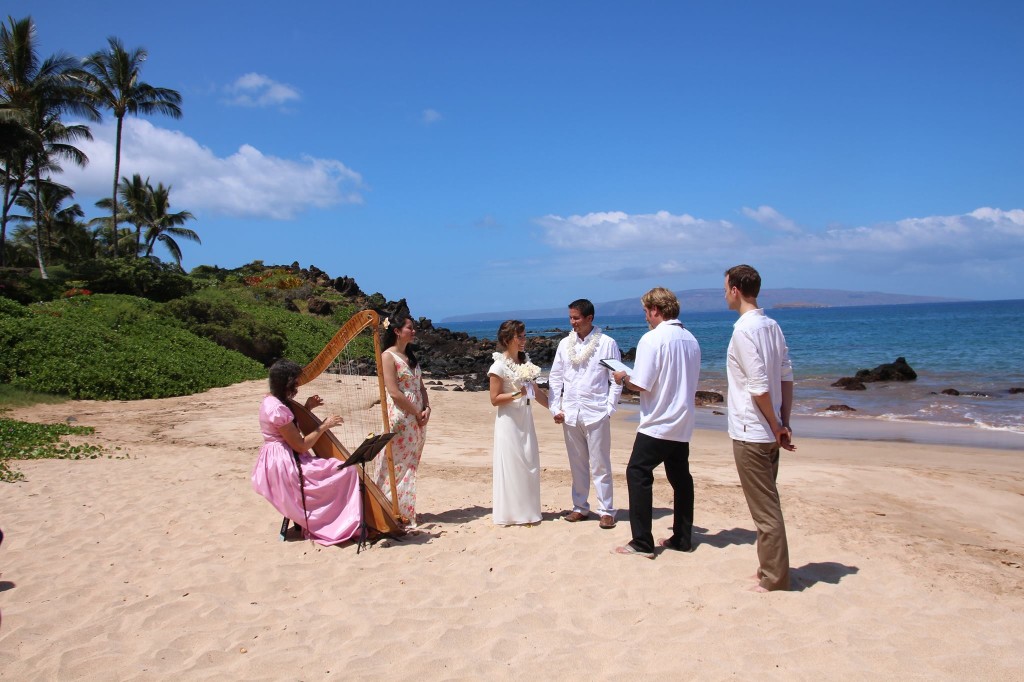 The meaning of "Aloha" is to share a breath! Words of meaning that will last a lifetime. With the Aloha wedding package, your wedding will be your personal style with all that Maui has to offer, beautiful beaches, a beautiful sunset, and a touch of class and attention to detail, making it your special day.
Wedding Planning: We book an Officiant, schedule your license appointment, and order your fresh flower leis.
Onsite Wedding Coordination: At your wedding, we coordinate all of the details to make certain that everything goes as planned. If your wedding is on a public beach, we take care of obtaining a State Beach Permit.
Flowers: You receive two flower leis that will be used for a lei exchange during your wedding ceremony. These Hawaiian leis are available to you in your choice of vibrant colors or pastels.
Photography: this wedding package includes 35 pictures.
Sparkling Apple Cider Toast: After the wedding ceremony we provide an attractively decorated small round table, with a white lace table cloth on which we'll place two glasses and an ice bucket for your wedding toast.
Souvenir Wedding Certificate: We provide you with a beautiful color wedding certificate keepsake.
Beach Permit. Plus a $50 beach permit fee is required by the State of Hawaii when having a wedding on the beach.
Price: $1,317
NOTE: Our "Aloha Package" wedding is perfect for couples with attending guests. This package price is good for "up to 8 guests", but you can add on additional guests for a small fee.  Anything else you might what to add? . . . like a limo or musician, check out our Ala Carte page. It offers all you need to make your wedding the extra special day of your dreams.
If you want to book a date with this package, contact us online or give us a call and we can help you make decisions about the details of where, when, and how. We looking forward to hearing from you.